JULIE'S STUFF
Quality Products for Mother and Child

Free shipping on orders over $150!
ORDERING
*****Free Shipping on Orders over $150. AK, HI and International Orders only pay the difference, if any.
*****Returns are subject to a 10% re-stocking fee. No fee on full exchanges or store credit.
*****Free Shipping does not apply on exchanges.

ORDERING:
We currently accept checks, money orders, Paypal, VISA and MasterCard.
Items are generally shipped the business day or two after payment arrives, unless by chance something is on order or back order from the distributor. We prefer to ship orders all at once due to the high cost (and ever increasing cost) of shipping. We will let you know if there are any delays.
I will send an automated FedEX delivery tracking number if you have either a fax number or email address on file here.
Only WI Residents must pay state sales tax of 5.5%. There is no sales tax on cloth diapers! I will manually remove the sales tax on those items when I process your order.
SHOPPING CART: Simply browse our site and fill up your cart! The Shopping cart does the actual percentage on the shipping based on the weight $6.00 for the first pound plus $0.50 for each additional pound.
BY EMAIL SEND ORDER TO: email me
Name
Street address (no PO Box)
City, State, Zip Code
Email Address
Telephone Number
I will send an invoice with a button to pay with a credit card or you may send a check or money order.
BY PHONE: (608) 669-8538. 10 am -- 4 pm CST Monday -- Friday (email or shopping cart any time!)
We run this business from our home on only 2 phone lines. One is connected to internet all day and the other is for personal and business use. So PLEASE limit your calls to 10 am -- 4 pm CST Monday -- Friday. (though I am flexible, except in the middle of the night!) Be prepared to hear children in the background! If you are leaving a message on the answering machine, please just leave your name and phone number with area code and I will get back to you as soon as I am able. If you do not hear back from me within a day's time please try again. Our answering machine has a habit of mumbling! Please send your mailing address and a list of the items you have "reserved" when you mail in your check or money order.
BY SNAIL MAIL, SEND ORDER TO:
Julie Howard
Julie's Stuff
P.O. Box 64
Lodi, WI 53555
FedEX TIME IN TRANSIT MAP (add a business day or two for processing of course)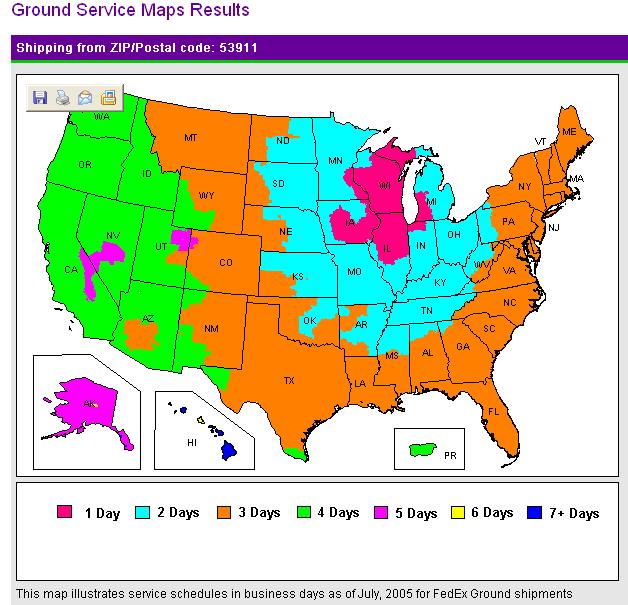 FedEX SHIPPING RATES CHART (I also ship by First class and priority in my ship calculator as you order) for the Domestic USA
We would be happy to do 2nd Day Air or Next Day Air,
if you are in a hurry for your items. We are
unable to do Saturday Pick-Up as it is unavailable in our area.
Free Shipping on Orders over $150.
FedEX rates are approximately $6 for the first pound and 50c for each additional poind.
AK, HI, and International Orders are subject to any fees or differences in cost. Please contact us.
Shipping by US MAIL: The cost of shipping is very expensive and we have set up our shipping system with FedEX so as a general rule we ship by FedEX. This is convenient and cost effective but we do also offer First class and priority mail service. Our shipping prices are fair. We have kept our prices lower than most places and have reasonable shipping rates.
We do ship by the US Postal Service by First Class and Priority Mail.
[*JULIE'S STUFF HOME*][*PRODUCTS*][*SPECIALS*][*WHAT'S NEW*]
[*ORDERING*][*CONTACT US*][*ABOUT US*][*LINKS*][*EMAIL US*]